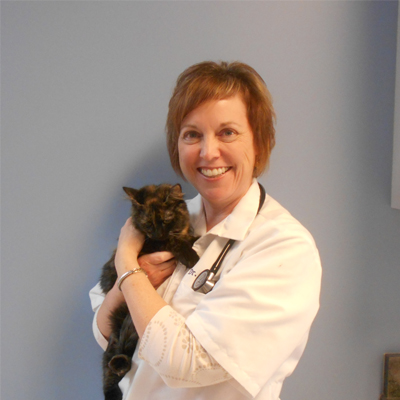 Dr. Johnson grew up locally right here in Cincinnati and has always desired to be a veterinarian as far back as kindergarten. In high school she spent time volunteering and working as a veterinary assistant at a local animal hospital which further inspired her to continue down that career path.
She attended Miami University where she received a Bachelor of Science degree in Zoology in 1993 and The Ohio State University College of Veterinary Medicine where she received her Doctorate of Veterinary Medicine in 1997. She worked at a small animal hospital in Louisville, KY for 2 years before returning home to Cincinnati in 1999 to continue practicing.
Dr. Johnson appreciates the care and devotion her clientele over the years have given their furry family members. She enjoys helping them in any way she can and has a special interest in feline and geriatric medicine. Her own pets include some feisty felines that keep her on her toes and have taught her a lot over the years! She is a member and past Trustee and Recording Secretary of the Cincinnati Veterinary Medical Association, as well as, a member of the Ohio and the American Veterinary Medical Association.
During the Spring and Summer, you can find her working in her yard or visiting one of the many local garden centers on the hunt for even more flowers to plant! She also enjoys reading and spending time with her family.
"I am thrilled to have found a home at West Chester Veterinary Care with Dr. Hellard and her wonderful caring staff! The high level of medical care that is provided is only outweighed by the friendliness and compassion of the staff and all the patients are treated as if they were our own."