We have limited availability in our kennel. Please call our office for details
Our boarding kennel was designed to be small in order to keep a close eye on all pets that are in our care.
Note that a deposit is required for boarding reservations.
Cat Boarding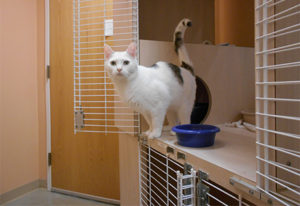 The cat lodge contains custom-built condominiums that offer a variety of experiences for your cat.  Shy cats will be placed away from the viewing window so they may maintain their privacy while outgoing cats will be provided condos with a view.  Senior cats that have difficulty jumping onto the built-in sleeping platforms will be placed in a longer condo that does not require them to jump.  Litter boxes are kept separate from the food, water, and sleeping areas. Feliway, a comforting pheromone aromatherapy is provided around the clock in the lodge area.  Dogs are prohibited from entering the cat lodge and it is isolated from the view and noise of dogs in the kennel area.
Requirements for cat lodging:
Good temperament
Current FeLV (leukemia) vaccination and/or FeLV (leukemia) test
Current rabies and PRC (panleukopenia, rhinotracheitis, calicivirus) vaccination
Free of fleas/ticks
Dog Boarding
One of our specialties is extended stay boarding. For pets that stay with us for more than two weeks, we apply discounted boarding rates. Pets that stay for a month are given a second tier discount. We are open Sundays from 2:30-3:30pm for boarding pickup only.
Dogs are given appropriate sized runs with bedding and ample fresh water. We can feed our highly digestible prescription diet or your food (no change in cost). All dogs are guaranteed three walks per day. Easily administrated medications are given at no charge. Cots are available to rent.
Requirements for our kennel:
Dogs:
Good temperament
Current Rabies, DAPP (distemper, adenovirus/hepatitis, parvovirus, parinfluenza), and Bordetella vaccinations
Free of intestinal parasites
Free of fleas/ticks
Click HERE for detailed lodging requirements.
Click here for our boarding rates
Exotic boarding
Yes, we board exotics too. Please contact our office for more details.